Whiplash Treatment in Bentonville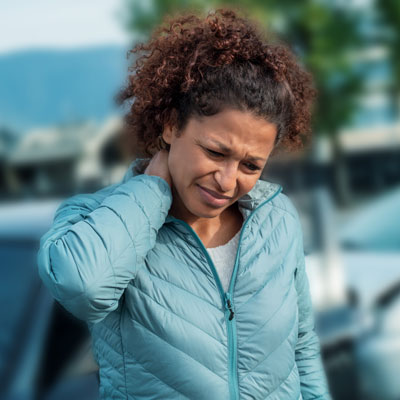 Whiplash is the fast and excessive flexion and extension of the neck, usually due to a car accident or similarly high-impact collision. Some symptoms may include neck pain, headaches, dizziness, ringing in the ears, shoulder pain, and arm and leg pain.
How Ligaments Can Become Damaged
You have nine ligaments in your neck that make up the support system of your vertebrae. One ligament connects to the disk in your back, which is important. But there are also eight other ligaments that take most of the force in a car crash or other high-impact collision. These can be permanently damaged if not properly dealt with.
The Importance of Prompt Care
At 479 Chiropractic & Wellness, we have the expertise to diagnose and care for head injuries and whiplash in a way that promotes complete healing.
The sooner you come into our Bentonville office and see Dr. Zac, the better. Whiplash becomes more difficult to solve as you get farther from the moment of impact. As the more time ligaments are stuck in the wrong position, the harder they are to correct.
While it is preferred that you come in as soon as possible for whiplash, Dr. Zac has also spoken with patients who had a car accident years ago. It would take a while to get it under control, but care that heals symptoms and reverses long-term aches and pains is possible.
What to Expect
Usually we start with neck adjustments, but decisions for how to care for whiplash are made case-by-case.
Lower-force, iInstrument-assisted adjustments are available as an option, in addition to the traditional manual adjustments. Dr. Zac may suggest ultrasound therapy, then rehab exercises and postural awareness, as we seek the right combination that brings complete healing to you.
Book Today
If you've experienced whiplash we want to help you heal. Contact us today to schedule an appointment.
CONTACT US

Whiplash Treatment Bentonville, AR | (479) 367-5706